The first virtual reality platform
that focuses on enhancing health safety and environment training
Our tool lets HSE trainers teach lessons that would be too dangerous or expensive in real live. If you're looking for trainers that use VR, check our directory.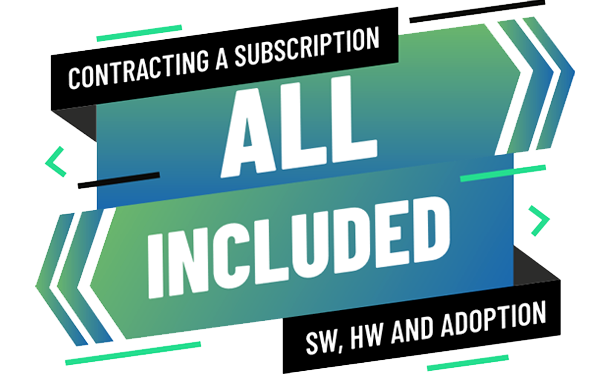 One suscription = One VR setup
Access to the platform
Unlimited use
Access to all the existing and upcoming content
Content in english and spanish
Use the platform online and offline
Integrate Ludus to your LMS and have access to real-time data
Hardware
VR-ready laptop
Last generation VR Goggles
Security case
Calibrated CPR bust
VR adapted fire extinguisher
Onboarding
Preparing and shipping the hardware
Ludus training for your HSE training staff
Access to tailored customer support
Access to branding, communication and marketing content
Customer support and quick problem solution team
Fast shipping and serving in any country in the world
¿What kind of training modalities can you use with Ludus?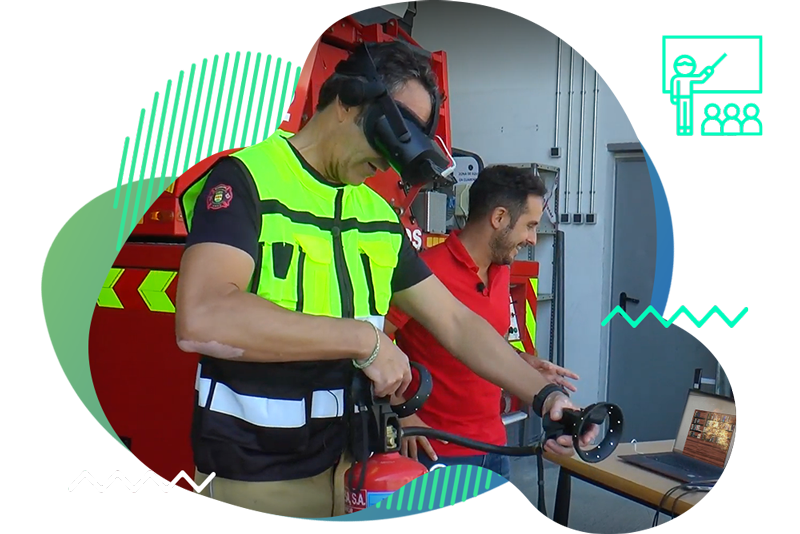 Guided training
The HSE trainer can incorporate VR to teach lessons that would be too dangerous or expensive in person. It is the most popular use of the platform to perform individual or group HSE training.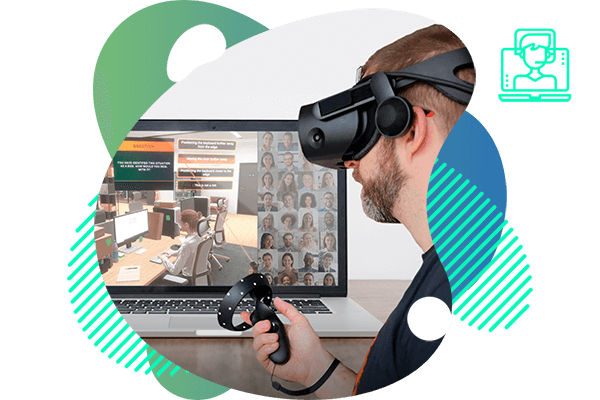 Remote training
In recent years, online training has become an important training avenue for companies all over the world. Ludus makes it engaging, effective and entertaining for both the trainer and employees.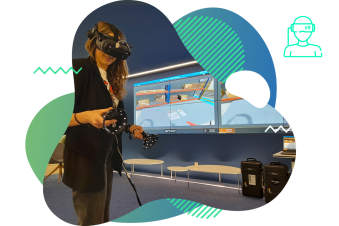 Self-training
In order to create safe working environments, we want people to master security procedures. So, Ludus has a guiding system that allows workers to train as much as they want by themselves.
Instructions
What happens when you acquire a Ludus suscription?
You get your suscription at our shopping cart
You will get an email with the instructions to create your Ludus user
In the email, you will also have a link to track the shipping of your VR setup (laptop, VR goggles, bust, fire extinguisher, etc)
Our customer success team will be with you along the whole onboarding process
Once you get your VR setup, you will be able to activate your license. The suscription period will start at that moment.
Our team will help you setup the equipments and get started with the platform
Our HSE trainers will schedule a training session with your staff. We're going to help you incoroprate VR in your program
You will also have access to the Ludus Academy that is packed with helpful resources
We are not going to abandon you after the onboarding is complete. Our customer success team will be always available to you
What is Ludus?
Ludus is a VR training platform that focuses on Health, Safety and Environment. Our main goal is to help create safer working environments all around the world.
What do I need to start using Ludus?
Ludus is an all-in-one solution, and it includes everything you need to start using VR in your HSE training program: Access to the platform, the hardware and help with the adoption of the technology.
So, all you need is to acquire a suscription.
Does it need maintenance?
Yes, and your suscription includes access to "Ludus care".
You are going to have access to our support team via email, and we will answer within 48 hours.
The service also includes the maintenance and hardware update.
Is there any limitation to the usage?
No, you can use all the simulations (existing and upcoming) with as many trainees as you want and as much time as you need.
Does Ludus replace HSE trainers?
No. In fact, HSE trainers are the protagonists of our service. Our goal is to take HSE training to the next level by empowering the trainers with the ability to teach lessons that would be too dangerous or expensive in real life.
How will my HSE trainers learn how to use Ludus?
Part of our service includes trainers training. We have certified HSE educators in our payroll that help us with this.
Also, all our products include technical sheets that show all the exercises and considerations included in the simulation.
Do I need to be online to use Ludus?
No, Ludus is the only platform that lets you use the simulations offlline. So, you can train people no matter where they are.
Can I ask Ludus to develop a simulation my company needs?
Yes, if you acquire more than 8 licenses, you can ask Ludus to develop a simulation. It usuallly takes between 2 and 4 months to be ready.
Talkk to our sales team
If you want to start using virtual reality in your HSE training, fill the form. Our team will get in touuch with you and will help you develop the right plan for your company.